Welcome
Welcome to the website of the Australian Consulate General in Mumbai. This site will provide you with quick, helpful and accurate information; and relevant links to all Australian issues for Australians living and working overseas, as well as servicing Indian business and investment.
For Australians in distress, please call the Australian Consulate consular section on +91 22 67574900. If it is outside of business hours, you may call the Consular Emergency Centre in Canberra on +61 2 62611289 or +61 2 62611213. If they cannot resolve your issue from there, they will make contact with a consular official in Mumbai who will get in touch with you.
Australian Consulate General in Mumbai
Contact information
Level 10, A Wing
Crescenzo Building
Opp MCA Cricket Club
G Block, Plot C 38-39
Bandra Kurla Complex
Mumbai 400 051
Tel: +91 22 6757 4900
Fax: +91 22 6757 4955
Email: General enquiries: cg.mumbai@dfat.gov.au
The Australian Consulate General in Mumbai does not provide any assistance with regards to Australian visas or Australian citizenship applications which are processed in New Delhi by the Department of Immigration and Border Protection.
Opening hours
The Consulate is open from 9.00 am to 5.00 pm Monday through Friday, excluding public holidays. Passport interviews by appointment only are held between 9.30 am and 4.00 pm Monday to Friday. To book an appointment please call +91 22 67574900.
Australian Federal Election
The Australian Federal Election will be held on 2 July 2016.
Online applications for a postal vote (for those already registered to vote) are available on the AEC website at www.aec.gov.au. Your application for a postal vote must be received by the AEC by 29 June 2016.
Early (in-person) voting will be offered at Australian Consulate General in Mumbai from Monday 20June until Friday 1 July 2016 from 10am to 4pm Monday to Friday.
The Consulate will also be open for voting on Election Day i.e. 2 July 2016 from 9am – 3.30pm
You can find more information related to overseas voting during election time on the Australian Election Commission's website: www.aec.gov.au
In order to be granted access to the Consulate to vote in person you will need to bring your current Australian passport as identification. There are no exceptions to this policy.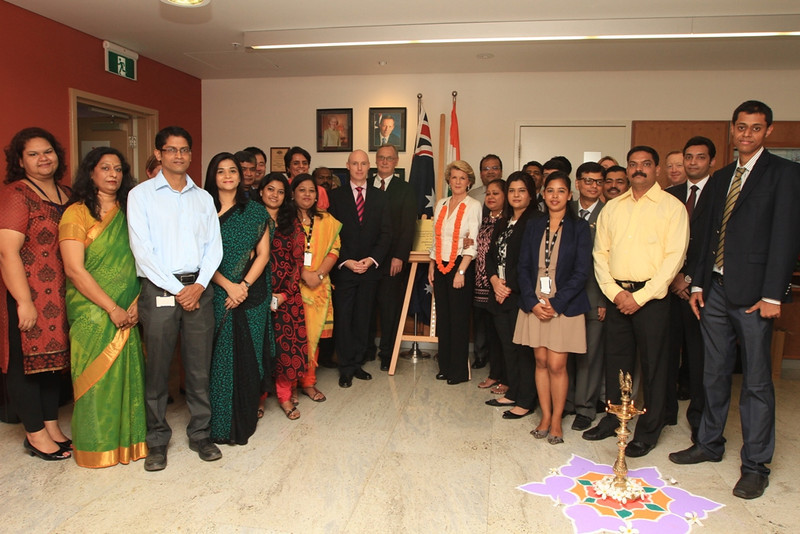 The Hon. Julie Bishop MP, Minister for Foreign Affairs with the staff of the Australian Consulate General Mumbai after the official opening on 16 November 2013.