Welcome
Welcome to the website of the Australian Consulate General in Mumbai. This site will provide you with quick, helpful and accurate information; and relevant links to all Australian issues for Australians living and working overseas, as well as servicing Indian business and investment.
For Australians in distress, please call the Australian Consulate consular section on +91 22 67574900. If it is outside of business hours, you may call the Consular Emergency Centre in Canberra on +61 2 62611289 or +61 2 62611213. If they cannot resolve your issue from there, they will make contact with a consular official in Mumbai who will get in touch with you.
Australian Consulate General in Mumbai
Contact information:
Crescenzo Building
Level 10, A Wing
Opp MCA Cricket Club
G Block, Plot C 38-39
Bandra Kurla Complex
Mumbai 400 051
Tel: +91 22 6757 4900
Fax: +91 22 6757 4955
Email: General enquiries: cg.mumbai@dfat.gov.au
Opening hours
The Consulate General is open from 08:30 AM to 04:45 PM Monday to Friday, excluding public holidays.
Passport services:
Passport interviews and notary services are by appointment only and are conducted between 08:30 am to 12:00 noon Monday to Friday. To book an appointment please call +91 22 6757 4900.
Visa related services:
The Australian Consulate General, Mumbai does not provide any assistance with regard to Australian visa or citizenship applications.
Latest News
Call for applications: Australian Alumni Grant Scheme (AAGS) 2020 – India pilot
If you're an Australian alumnus who dreams of making a difference in your professional field, workplace, or community, the Australian Alumni Grant Scheme (AAGS) 2020 can help. The AAGS offers seed funding on a competitive basis for initiatives that create impact by putting your knowledge and skills to good use. This pilot program provides up to AU$20,000 per grant and up to 5 grants are available this round. Don't miss this opportunity to bring your ideas to life and be the agent of change in your community. The AAGS is open to all Indian nationals (or Australian's with a valid Overseas Citizenship of India card) who have graduated from a recognised Australian tertiary institution, including those who are self-funded. It is also open to alumni of short-term studies or programs in Australia.
What is AAGS? Who can apply? What kind of projects and activities do the grants cover? For more information on Grant Funding and Eligibility, check the Guidelines below.
| | |
| --- | --- |
| Activity | Time |
| Applications open | 09:00 Friday 7 February 2020 |
| Applications close | 17:00 Tuesday 31 March 2020 |
| Assessment of applications | 6-8 weeks |
| Approval of outcomes of selection process | May 2020 |
| Negotiations and award of grant agreements | June 2020 |
| Notification to unsuccessful applicants | June 2020 |
| Project activity to commerce | Before July 2020 |
Submit your applications before 31 March 2020 at this link
Talk to the AAGS Team about your ideas: Tel: +91 44 459 213 00 or Email: ChennaiAustralianConsulate@dfat.gov.au
Changes to Smartraveller: What you need to know
Smartraveller has the latest, authoritative travel advice so you can be informed and prepared about overseas travel. Subscribe to receive travel advice updates - by simply supplying your name and email address – straight to your inbox.
You can now also subscribe to the new SMS service - by supplying your mobile number – to receive critical alerts in the event of a crisis overseas.
In a crisis, Smartraveller will activate a crisis page on its website. It will make it easier for you or someone you know to contact the Australian Government if you need help. It will supplement the consular emergency hotline.
Visit www.smartraveller.gov.au to subscribe or connect with Smartraveller on Facebook and Twitter.
Hoax Employment Opportunities
The Australian Consulate General is aware of hoax employment opportunities advertising recruitment from companies such as John Holland, Eco Mech Engineering, Wyatt Cole Construction and others to Australia. The Australian Consulate General is not undertaking a recruitment process for any of these companies in Australia nor assisting with the processing of visa applications to work at these or other companies.
If you have concerns about the validity of an employment offer, please refer to the information regarding potential visa scams, including various warning signs, available on the Australian High Commission, New Delhi website via the following link (http://india.highcommission.gov.au/ndli/IMMI19022014.html). Where you are the recipient of an email purporting to be from the Australian Consulate General and you are being asked to process a payment for issuance of a visa please report this to integrity.newdelhi@dfat.gov.au and contact your local Police Office for further action.
Please note at no stage will the Australian Consulate General, nor any staff of the Consulate, request any payment or charge any fees to assist with visa processing or employment opportunities in Australia.
Increase in Passport Fees
Effective from 1 January 2020 there will be an increase in the Passport fees. The fee structure is stated in the document below. Please note that you will be required to pay an equivalent amount in local currency. For more details you may contact the Australian diplomatic mission or consulate where you will lodge your application.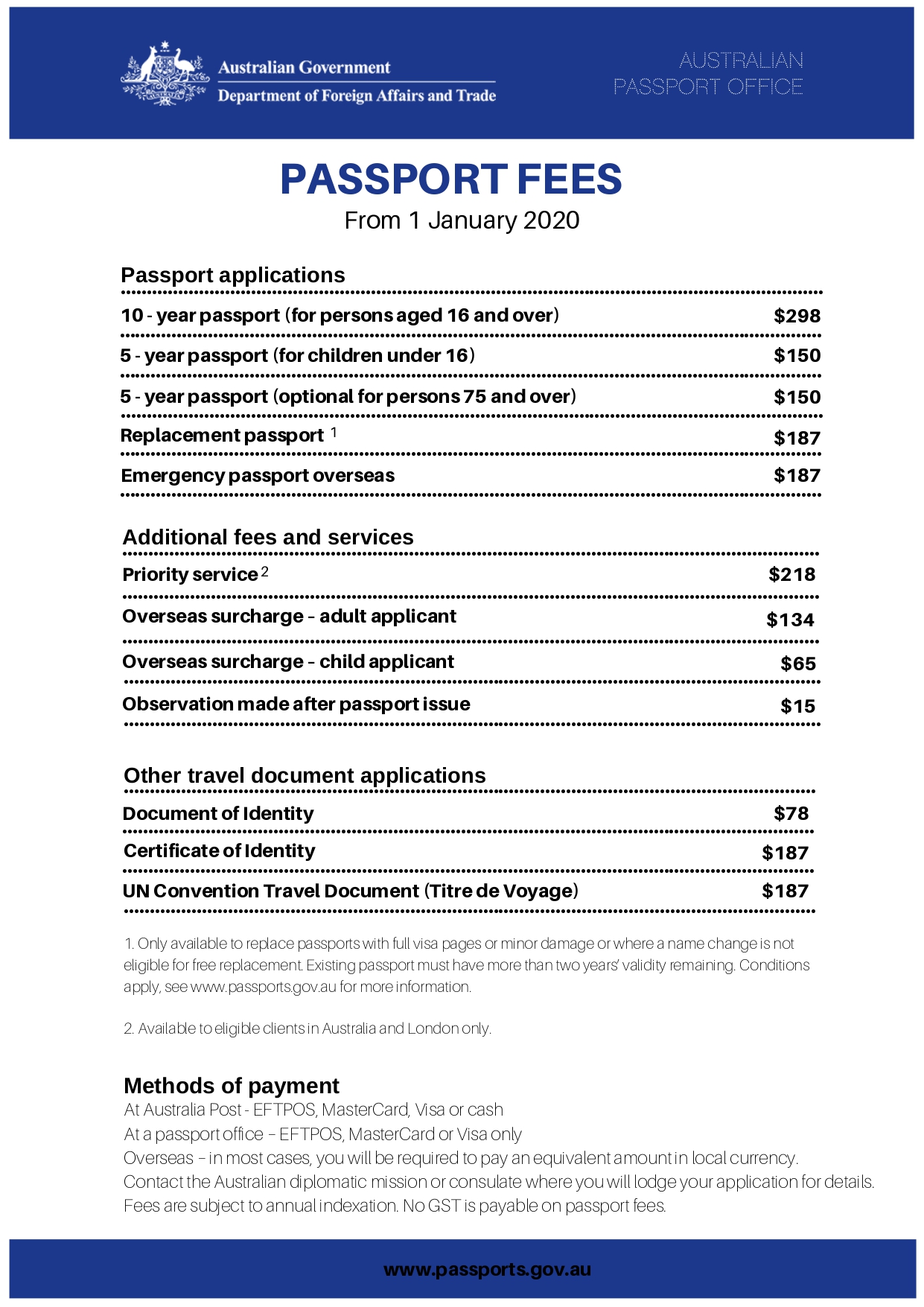 Phasing out of Frequent Traveller Passports
As of 1 December 2017, the Frequent Traveller Passport (FTP) will no longer be accepted in Australia or overseas. Please contact us on +91 22 6757 4900 or cg.mumbai@dfat.gov.au for more information on replacement passports.