Welcome
Welcome to the website of the Australian Consulate General in Mumbai. This site will provide you with quick, helpful and accurate information; and relevant links to all Australian issues for Australians living and working overseas, as well as servicing Indian business and investment.
For Australians in distress, please call the Australian Consulate consular section on +91 11 41399900. If it is outside of business hours, you may call the Consular Emergency Centre in Canberra on +61 2 62611289 or +61 2 62611213. If they cannot resolve your issue from there, they will make contact with a consular official in Mumbai who will get in touch with you.
COVID-19
IMPORTANT UPDATES FOR THOSE WISHING TO RETURN TO AUSTRALIA
In an Australian National Cabinet meeting, the Prime Minister and State and Territory leaders discussed increased COVID-19 cases in Victoria. As part of the response, the leaders agreed to reduce by half the number of arrivals on inbound flights into Australia.
The Prime Minister also indicated that State and Territory governments are expected to make announcements shortly about charging for hotel passengers for hotel quarantine.
For travellers with tickets on one of the six postponed Air India flights we don't yet know if Air India will again postpone these flights. We expect Air India to advise on next steps in the coming days.
We know these changes taken by Australian Federal, State and Territory governments to manage COVID-19 risks are frustrating for many of you who want to return to Australia. We will continue to update registered Australians about options to return to Australia as they become available.
IMPORTANT INFORMATION FOR AUSTRALIANS
The Indian Government has announced a gradual reduction of COVID-19 restrictions as part of "Unlock v2.0". Please ensure you are aware of any State specific regulations and adhere to these.
However, the Indian government and state governments are maintaining a number of measures in the fight against COVID-19. Australians should follow the advice of local authorities and minimise your risk of getting the virus.
Consulate-General staff will continue to update our website with relevant information as quickly as possible, including links to the latest available information and advice.
We can all help slow the spread of COVID-19. To protect yourself and others you must:
· practise social distancing
· limit contact with other people
· understand how to isolate if you need to
· look after your mental health
Due to continuing lockdown measures in Mumbai, the Consulate-General is unable to accept visitors without an appointment. Please call +91 11 41399900 for any consular, passport or notarial services, including to make a time to visit the Consulate-General if required.
EXTENSION OF INDIA'S FLIGHT BAN
India has extended its ban on regular scheduled international passenger flights and will review this decision as part of Phase III. A calibrated number of domestic flights between various cities resumed from 25 May. We have prepared responses to frequently asked questions, including covering existing flight bookings, charter options, visa extensions and tips for the lockdown in India. Read more...
ATTENTION: Be careful when choosing charter fights
Many people are asking us about other private charter options being promoted. Be aware: only flights we notify to those registered with us have the approvals required to operate. Please be cautious about other options.
REGISTER WITH US FOR UPDATES
If you have not yet done so, we urge you to register with the Australian High Commission – this will enable us to contact you should the need arise.
Click on this link to register with us: https://covid19.dfat.gov.au
RETURNING TO AUSTRALIA
The Indian Government's ban on international scheduled flights has been extended until further notice. India resumed domestic flights in a calibrated manner from 25 May.
On 25 March, the Deputy Prime Minister Michael McCormack and the Minister for Foreign Affairs Marise Payne issued a statement about Australians trying to return to Australia.
They made clear:
- Where local authorities will allow, consideration is being given, on a case by case basis, to supporting airlines willing to operate non-scheduled services to bring Australians home
- There are no plans for assisted departures such as those conducted to the epicentre of the COVID-19, Wuhan in China and Japan.
We are sending updates on flight options to Australians who have registered with us (see above on how to do so). We will update this website when there is any change in this advice or if new airline information becomes available.
The Australian government continues to investigate commercial flights options to repatriate those wanting to return to Australia. The planning and coordination of these flights will affect consideration of privately-organised charter flights.
If you have sought approval for a privately-organised charter, you can expect to be contacted by the Australian Border Force. The AHC New Delhi is unable to provide any assistance for private charter flights until such approvals have been provided in Australia.
We continue to assess all such requests against a range of factors, including the need to manage and sequence the return of Australians into our international airports so that Commonwealth, State and Territory authorities can successfully implement reception arrangements, including mandatory quarantine requirements.
MOVEMENT PASS
If you have purchased a ticket on a flight to Australia a movement pass from the Indian government to travel to the city from where your flight is departing is no longer required. However, you should contact and consult the state governments you need to pass through to confirm what if any requirements they may have and comply with these.
QUARANTINE PERIOD
All travellers returning to Australia will be required to undertake a mandatory 14 day quarantine at designated facilities at their port of entry. You will be directed to a facility such as a hotel on arrival in Australia and required to stay there for 14 days before you can complete any onward travel or return to your home. See the Smartraveller website for more.
Should you then wish to travel to another state or territory governments you may be subject to an additional period of quarantine or other restrictions. You should keep up with the latest with the relevant State and Territory Governments:
Australian Capital Territory (ACT)
FOOD AND MEDICINE
As you know, the Indian Government has announced further relaxaions to restrictions on activities outside of containment zones. Indian authorities advise that people will have access to food and medicine in containment zones.
For those staying in hotels, you should be able to drive or walk to nearby shops and pharmacies. If you are having problems, we suggest asking your hotel, local authorities or friends to help you get essential supplies.
If you have any problems. Contact us: (Business hours: +91 11 41399900, [email protected]; For outside of business hours: +612 6261 3305).
You can also call the Police on 100.
HOTELS
If you have any problems with hotels, including hotels accepting bookings, please contact the 24/7 Indian Government tourism hotline on 1800 11 1363 (available in 12 languages).
VISAS
If your visa has expired after 1 February 2020, the Indian Government will extend your visa without a fine for a period of up to 30 days after the travel ban is lifted. To extend your visa apply online through FRRO/FRO.
INTERNATIONAL STUDENTS IN AUSTRALIA
The Australian Government recognises that COVID-19 is affecting international students in Australia, who are friends, colleagues, classmates and members of the Australian community. On 4 April, the Australian Minister for Education, the Hon Dan Tehan MP, said the Australian Government had agreed that:
international students who had been in Australia for longer than 12 months who find themselves in financial hardship would be able to access their Australian superannuation
international students would be able to work up to 40 hours per fortnight
the Government would increase flexibility for a number of regulations to make it easier for international students to continue their studies in Australia should they wish to do so
the Government would be flexible in cases where COVID-19 has prevent international students from meeting their visa conditions (such as not being able to attend classes).
International Students in Australia Factsheet
See also the Australian government's portal on support available for international students in Australia during COVID-19.
OTHER USEFUL INFORMATION
The Australian Government advises all Australians: Do not travel overseas at this time. This is the highest advice level. Please see the Smartraveller website for more information on COVID-19 for Australian travellers.
On 24 March 2020, Prime Minister Morrison announced a ban on Australians travelling overseas under the Biosecurity Act 2015. This is on top of the Australian Government's standing advice to Australians not to travel overseas. It is effective from midday on 25 March 2020.
The Australian Government has announced that from 21:00hrs on 20 March 2020 only Australian citizens, residents and immediate family members can travel to Australia. Please visit the Visas and Citizenship section for more information.
Indian Government Ministry of Health and Family Welfare: https://www.mohfw.gov.in/
Indian Ministry of Tourism website to help forieign tourists in India: http://strandedinindia.com/
Social distancing: Australian Government advice, Indian Government advice
Industry Insights for Australian businesses
Austrade is working closely with the network of government departments and industry agencies to help Australian businesses overcome complex and fast-evolving COVID-19–related challenges. Their website is updated regularly to provide industry insights by sectors for Australian Exporters. Link: https://www.austrade.gov.au/news/news/novel-coronavirus
Australian Consulate General in Mumbai
Contact information:
Crescenzo Building
Level 10, A Wing
Opp MCA Cricket Club
G Block, Plot C 38-39
Bandra Kurla Complex
Mumbai 400 051
Tel: +91 11 4139 9900
Fax: +91 22 6757 4955
Email: General enquiries: [email protected]
Opening hours
The Consulate General is open from 08:30 AM to 04:45 PM Monday to Friday, excluding public holidays. However, due to lockdown measures in Mumbai, these hours may be subject to change.
Temporary entry measures are currently in place as a precaution for health and safety reasons and due to the continuing lockdown in Mumbai, the Consulate-General is unable to accept visitors without a prior appointment. Please email [email protected] for any consular, passport or notarial services and advice, including to make a time to visit the Consulate-General if required
The safety and health of our visitors, staff and contractors is a priority, if you are feeling unwell or located in a containment zone we recommend you cancel your appointment and do not visit the Consulate-General.
Standard checks are being conducted by the building management upon entry. Clients displaying symptoms of being unwell or those coming from a containment zone may be refused entry into the building premises by building security.
We ask that you do not bring anyone to your appointment who is not required to attend. All members of the public who enter the Consulate-General must wear a face mask covering during the time of their visit. Visitors are also being asked to use hand-sanitizer as appropriate.
Passport and Notary services:
Passport interviews and notary services are by appointment only and are conducted between 08:30 am to 12:00 noon Monday to Friday. To book an appointment please email [email protected].
Visa related services:
The Australian Consulate General, Mumbai does not provide any assistance with regard to Australian visa or citizenship applications.
Latest News
Changes to Smartraveller: What you need to know
Smartraveller has the latest, authoritative travel advice so you can be informed and prepared about overseas travel. Subscribe to receive travel advice updates - by simply supplying your name and email address – straight to your inbox.
You can now also subscribe to the new SMS service - by supplying your mobile number – to receive critical alerts in the event of a crisis overseas.
In a crisis, Smartraveller will activate a crisis page on its website. It will make it easier for you or someone you know to contact the Australian Government if you need help. It will supplement the consular emergency hotline.
Visit www.smartraveller.gov.au to subscribe or connect with Smartraveller on Facebook and Twitter.
Hoax Employment Opportunities
The Australian Consulate General is aware of hoax employment opportunities advertising recruitment from companies such as John Holland, Eco Mech Engineering, Wyatt Cole Construction and others to Australia. The Australian Consulate General is not undertaking a recruitment process for any of these companies in Australia nor assisting with the processing of visa applications to work at these or other companies.
If you have concerns about the validity of an employment offer, please refer to the information regarding potential visa scams, including various warning signs, available on the Australian High Commission, New Delhi website via the following link (http://india.highcommission.gov.au/ndli/IMMI19022014.html). Where you are the recipient of an email purporting to be from the Australian Consulate General and you are being asked to process a payment for issuance of a visa please report this to [email protected] and contact your local Police Office for further action.
Please note at no stage will the Australian Consulate General, nor any staff of the Consulate, request any payment or charge any fees to assist with visa processing or employment opportunities in Australia.
Increase in Passport Fees
Effective from 1 January 2020 there will be an increase in the Passport fees. The fee structure is stated in the document below. Please note that you will be required to pay an equivalent amount in local currency. For more details you may contact the Australian diplomatic mission or consulate where you will lodge your application.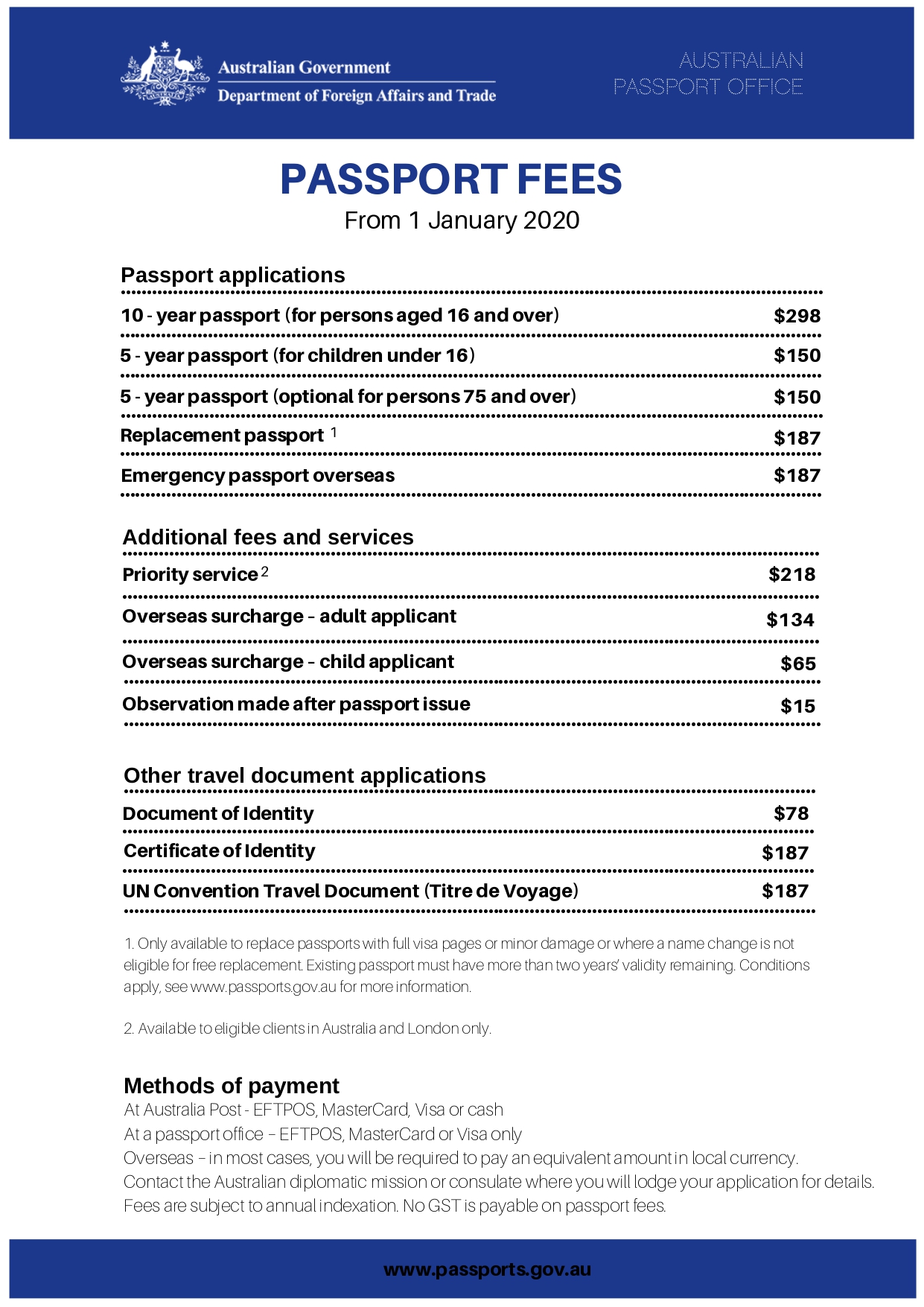 Phasing out of Frequent Traveller Passports
As of 1 December 2017, the Frequent Traveller Passport (FTP) will no longer be accepted in Australia or overseas. Please contact us on +91 11 4139 9900 or [email protected] for more information on replacement passports.