Welcome
Welcome to the website of the Australian Consulate General in Mumbai. This site will provide you with quick, helpful and accurate information; and relevant links to Australian issues for Australians living and working overseas, as well as servicing Indian business and investment.
For Australians in distress, please call the Australian Consulate consular section on +91 22 67574900. If it is outside of business hours, you may call the Consular Emergency Centre in Canberra on +61 2 62611289 or +61 2 62611213. If they cannot resolve your issue from there, they will make contact with a consular official in Mumbai who will get in touch with you.
SCAM ALERT – IMPORTANT INFORMATION
We wish to alert all those registered with DFAT and Australians to be cautious of potential scams. For general advice on scams please refer to the Consular Services section on this website and what to do if you're a victim overseas, refer to our I've been scammed overseas page on Smartraveller and for Visa related scams click here.
COVID-19
IMPORTANT INFORMATION FOR AUSTRALIANS
Passport Services
From 17 January 2022 clients in India will have access to a new document upload function. This will allow clients who have been issued with a 10-year Australian passport since 2005 or who are applying for a child passport to lodge a completed passport application, digital photograph, and payment authorisation via a new digital upload function through OPAS. Please refer to our Passports Services page for more information.
Notarial Services
Notarial Services at the Australian Consulate-General, Mumbai have been temporarily suspended until further notice.
For up-to-date information on India, please refer to the Smartraveller website.
The Indian government and Indian State governments are maintaining measures in the fight against COVID-19. Australians should follow the advice of local authorities to comply with these measures and minimise your risk of getting the virus.
Consulate staff will continue to update our website with relevant information as quickly as possible.
We can all help slow the spread of COVID-19. To protect yourself and others you must:
· practise social distancing
· limit contact with other people
· understand how to isolate if you need to
· look after your mental health
Please note washroom facilities are not available at the Australian Consulate-General Mumbai Office.
INDIA'S FLIGHT BAN
India has maintained a ban on regular scheduled international passenger flights . However, international all-cargo operations and flights specifically allowed to operate by the Indian aviation regulator, such as repatriation flights, charter flights, and flights under the Vande Bharat Mission, will continue to operate. We have prepared responses to frequently asked questions, including covering existing flight bookings, charter options, visa extensions and tips for the lockdown in India. Read more...
LOANS
The Australian Government will provide additional support to the most vulnerable Australian citizens whose return to Australia has been impacted by the restrictions arising from COVID-19. Full details about the assistance, including eligibilty criteria and how to apply, are available at https://www.smartraveller.gov.au/COVID-19/covid-19-overseas-financial-assistance
HOTELS
If you have any problems with hotels, including hotels accepting bookings, please contact the 24/7 Indian Government tourism hotline on 1800 11 1363 (available in 12 languages).
CHARTER FIGHTS
Many people are asking us about other private charter options being promoted. Be aware: only flights we notify to those registered with us have the approvals required to operate. Please be cautious about other options.
RETURNING TO AUSTRALIA
All travellers returning to Australia will be required to undertake a mandatory 14- day quarantine at designated facilities at their port of entry. You will be directed to a facility such as a hotel on arrival in Australia and required to stay there for 14 days before you can complete any onward travel or return to your home. See the Smartraveller website for more.
Should you then wish to travel to another state or territory governments you may be subject to an additional period of quarantine or other restrictions. You should keep up with the latest with the relevant State and Territory Governments:
Australian Capital Territory (ACT)
VISAS
All existing visas, except electronic visas (e-Visa), Tourist visa and Medical Visa, which remained suspended, shall stand restored with immediate effect. If the validity of such visa has expired, the foreign national may obtain a fresh visa of appropriate category/sub-category from the Indian Mission/Post concerned.
ADVISORY: TRAVEL AND VISA RESTRICTIONS RELATED TO COVID-19 (boi.gov.in). To extend your visa apply online through FRRO/FRO.
INTERNATIONAL STUDENTS IN AUSTRALIA
The Australian Government is making a number of changes to student visa arrangements to ensure Australia remains a priority destination for international students as we emerge from the COVID-19 pandemic. (Media Announcement: https://minister.homeaffairs.gov.au/alantudge/Pages/supporting-international-students-support-australian-jobs.aspx)
International students are extremely important to Australia and our economy, contributing $40 billion annually and supporting 250,000 jobs. Many also go on to become great Australian citizens.
While the closure of our international borders has been critical to our success in slowing the spread of the coronavirus, and Australia has been a leader in this regard, it has presented challenges to the education sector and students, both here and offshore.
These five visa changes will ensure international students are not worse off due to the coronavirus pandemic and that Australia remains competitive with other countries.
The changes include:
The Government will recommence granting student visas in all locations lodged outside Australia. This means when borders re-open, students will already have visas and be able to make arrangements to travel.
International students will be able to lodge a further student visa application free of charge, if they are unable to complete their studies within their original visa validity due to COVID-19.
Student visa holders studying online outside Australia due to COVID-19 will be able to use that study to count towards the Australian study requirement for a post-study work visa.
Graduates who held a student visa will be eligible to apply for a post-study work visa outside Australia if they are unable to return due to COVID-19.

Additional time will be given for applicants to provide English language results where COVID-19 has disrupted access to these services.
International Students in Australia Factsheet
See also the Australian government's portal on support available for international students in Australia during COVID-19.
INDUSTRY INSIGHTS FOR AUSTRALIAN BUSINESSES
Austrade is working closely with the network of government departments and industry agencies to help Australian businesses overcome complex and fast-evolving COVID-19–related challenges. Their website is updated regularly to provide industry insights by sectors for Australian Exporters. Link: https://www.austrade.gov.au/news/news/novel-coronavirus
OTHER USEFUL INFORMATION
The Australian Government advises all Australians: Do not travel overseas at this time. This is the highest advice level. Please see the Smartraveller website for more information on COVID-19 for Australian travellers.
On 24 March 2020, Prime Minister Morrison announced a ban on Australians travelling overseas under the Biosecurity Act 2015. This is on top of the Australian Government's standing advice to Australians not to travel overseas. It is effective from midday on 25 March 2020.
The Australian Government has announced that from 21:00hrs on 20 March 2020 only Australian citizens, residents and immediate family members can travel to Australia. Please visit the Visas and Citizenship section for more information.
Indian Government Ministry of Health and Family Welfare: https://www.mohfw.gov.in/
Indian Ministry of Tourism website to help forieign tourists in India: http://strandedinindia.com/
Social distancing: Australian Government advice, Indian Government advice
Australian High Commission, New Delhi consular assistance

Business hours: +91 11 41399900,

[email protected]

For outside of business hours: +612 6261 3305

Australian High Commission, New Delhi
Australian Consulate General Chennai
Australian Consulate General Kolkata
Australian Consulate General Mumbai
Key Indian Government contact points:

Indian Government central helpline number for COVID-19: +91-11-23978046

Indian Government tourism hotline: 1800 11 1363 (available in 12 languages).
Australian Consulate General in Mumbai
CONTACT INFORMATION:
Crescenzo Building
Level 10, A Wing
Opp MCA Cricket Club
G Block, Plot C 38-39
Bandra Kurla Complex
Mumbai 400 051
Tel: +91 22 6757 4900
Fax: +91 22 6757 4955
General enquiries: [email protected]
Opening hours
The Consulate-General is normally open from 08:30 AM to 04:45 PM Monday to Friday, excluding public holidays. However, due to lockdown measures in Mumbai, it is currently closed to the public.
Please note washroom facilities are not available.
Visa related services:
The Australian Consulate-General in Mumbai does not provide any assistance with regard to Australian visa or citizenship applications.
Latest News
Australia-India Cyber and Critical Technology Partnership: Grants program – Call for Applications
The AICCTP complements the Australia-India Framework Arrangement on Cyber and Cyber-Enabled Critical Technology Cooperation signed by Australia's Minister for Foreign Affairs Senator the Hon Marise Payne and India's External Affairs Minister Dr S. Jaishankar as part of the Australia-India Comprehensive Strategic Partnership announced during the Leaders' Virtual Summit on 4 June 2020.
The Partnership's 2020 grant program (Grant Round 1) will prioritise emerging and critical technology-related proposals that focus on the following areas:
activities that facilitate Australia-India research partnerships to strengthen understanding of ethical frameworks for emerging and critical technologies, and the development of best practice on translating ethical frameworks into practical action;
initiatives that encourage the development of technical critical technology standards that advance Australia and India's interests; and.
research on the trends shaping the global and technology marketplace or that assesses the opportunities and effectiveness of ethical frameworks or technical standards for emerging and critical technologies.
Applications closed on 5 February 2021. For more information about the AICCTP grant program please click here.
Changes to Smartraveller: What you need to know
Smartraveller has the latest, authoritative travel advice so you can be informed and prepared about overseas travel. Subscribe to receive travel advice updates - by simply supplying your name and email address – straight to your inbox.
You can now also subscribe to the new SMS service - by supplying your mobile number – to receive critical alerts in the event of a crisis overseas.
In a crisis, Smartraveller will activate a crisis page on its website. It will make it easier for you or someone you know to contact the Australian Government if you need help. It will supplement the consular emergency hotline.
Visit Smartraveller to subscribe or connect with Smartraveller on Facebook and Twitter.
Hoax Employment Opportunities
The Australian Consulate General is aware of hoax employment opportunities advertising recruitment from companies such as John Holland, Eco Mech Engineering, Wyatt Cole Construction and others to Australia. The Australian Consulate General is not undertaking a recruitment process for any of these companies in Australia nor assisting with the processing of visa applications to work at these or other companies.
If you have concerns about the validity of an employment offer, please refer to the information regarding potential visa scams, including various warning signs, available on the Australian High Commission, New Delhi website via the following link (http://india.highcommission.gov.au/ndli/IMMI19022014.html). Where you are the recipient of an email purporting to be from the Australian Consulate General and you are being asked to process a payment for issuance of a visa please report this to [email protected] and contact your local Police Office for further action.
Please note at no stage will the Australian Consulate General, nor any staff of the Consulate, request any payment or charge any fees to assist with visa processing or employment opportunities in Australia.
Increase in Passport Fees
Effective from 1 January 2022 there will be an increase in the Passport fees. The fee structure is stated in the document below. Please note that you will be required to pay an equivalent amount in local currency. For more details you may contact the Australian diplomatic mission or consulate where you will lodge your application.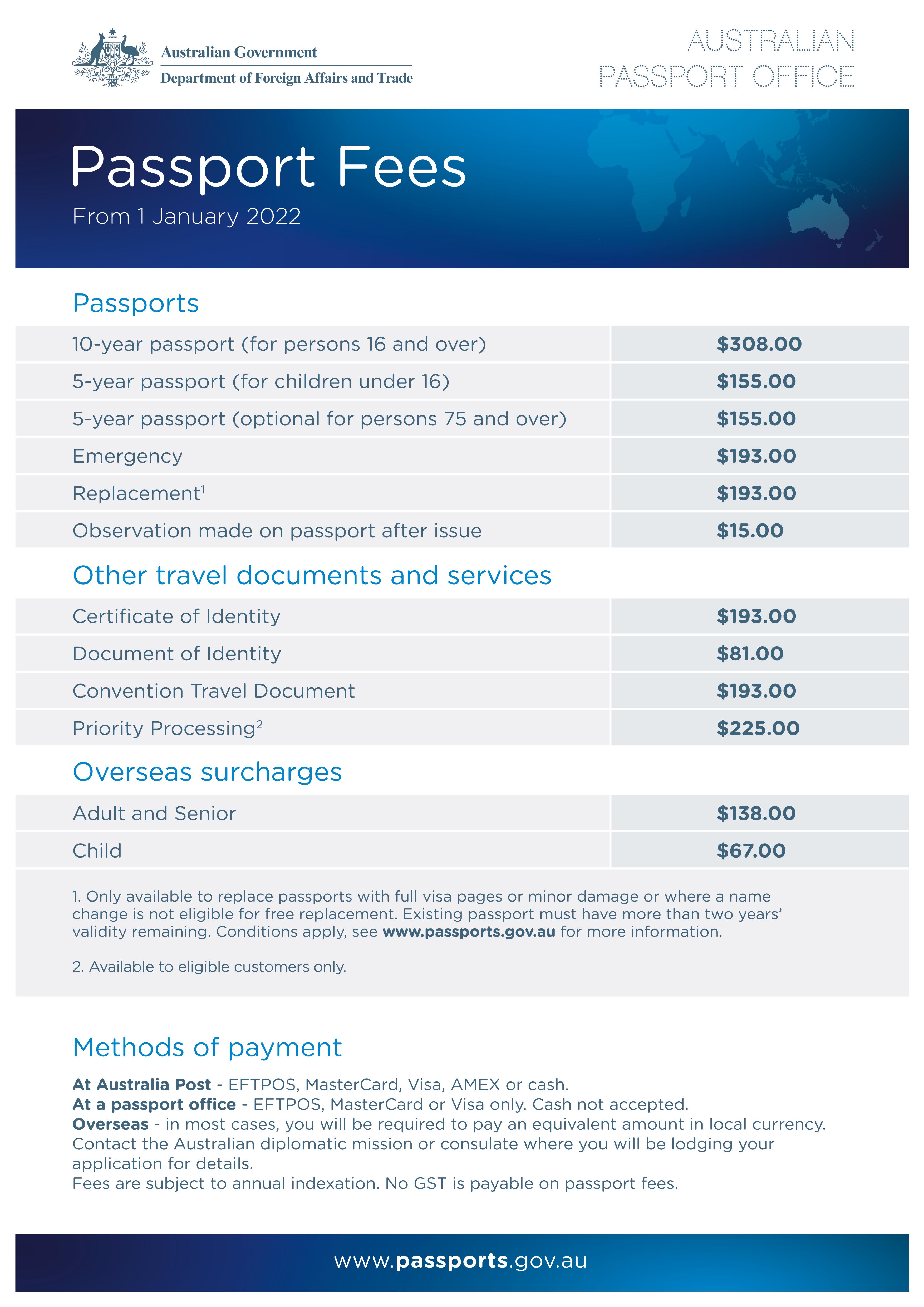 Phasing out of Frequent Traveller Passports
As of 1 December 2017, the Frequent Traveller Passport (FTP) will no longer be accepted in Australia or overseas. Please contact us on +91 22 6757 4900 or [email protected] for more information on replacement passports.